There has been a lot of things that have changed in online marketing this year in 2019, when it comes to having a high ranking on Google, and in this article, we are going to dive into that and tell you all you need to know about SEO when it comes to your roofing website.

Will SEO Still Matter In 2020 and Beyond?
Google's algorithm is always changing, the search results are ever-changing, and when you go to the search results, you will see tons of Google Ads at the top- and some of you guys in your cities will see a lot Google local Ads. All I am trying to say here is that there is just more and more space being taken up by these paid Ads. This has lead to a lot of people questioning if SEOs are worth working on.
If you're still skeptical if SEO works in 2020, here are a few findings that will blow your mind.
71% of all Clicks to search Results are Going to the Organic Search Results!!
This means that 71% of all clicks related to roofing have gone to the top three in the map pack, and also the top ten search results below that.
65% of All Clicks Goes to The Top 5 Organic Listings
So, this is an excellent chunk of real estate that is going into these organic search results, and a lot of people are clicking on that portion instead of ads. So, that being said, we can say that YES!! SEO still works and definitely matters in 2020.
Should you do paid Ads? Yes, if you have the budget, you should, but you cannot sleep on SEO in 2020. There is more lead traffic coming from SEO, so it is just not something you can sleep on.
That said, I will like to ask a quick question: Let's say you have a plumbing problem at home and you pull up your phone or go to your desktop, and then you go to Google and type in the nearest plumbers in your area. When the search results show up, are you going to click on the Ads or are you going to scroll down to the maps or the organic search results? Most of you, including me, are going to scroll down and click on the maps or use the organic searched results.
Statistically, only 14% of people click on the Ads, so I will want to emphasize that SEO isn't dead, and it still works in 2020, and that is the whole purpose of this article.
What is Roofing SEO?
So, SEO stands for Search Engine Optimization. And roofing SEO this has to do with roofing businesses like yours, optimizing your roofing website and webpages to get free and organic traffic from search engines like Google.
Why Is SEO Important To Your Roofing Business?
Well today, 94% of people search the internet before buying a new product or service. They do this by submitting their keywords for search, and they get a list of relevant websites in return. People tend to visit websites that are at the top of this list; this is because they appear to be more relevant to their search and they trust it more.
Studies have shown that if your website isn't at the top of the search engine results page (SERP's), you will never reach your customers online. If you've ever wondered why your roofing competitors' website ranks better than yours, then know it is because of a marketing strategy known as SEO. SEO will help your roofing site rank higher than the hundreds of other roofing sites in response to specific keywords searched.
The search engine system collects information about every page on the web and can help people find exactly what they are looking for. So, when your page gets a higher ranking, it helps more people to find you. To get a higher ranking, your roofing website must have all the new ingredients that search engines are looking for, which is what this article is about.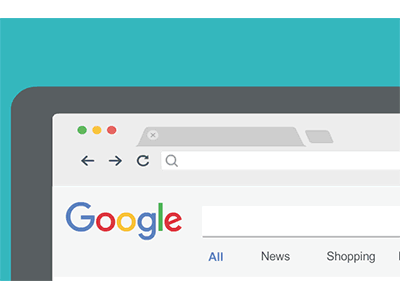 Basically, SEO looks for text, content, links, and other pieces of relevant information contained in the HTML code of your website. This way, when someone searches for say Roofing companies near me, the search engine will narrow the search to the word being searched for.
To get more roofing leads, then your roofing website has to be on the first page of all the major search engines, mostly Google, for the specific keywords that are relevant to your customers.
So, without SEO, your roofing website will never be found online by your customers organically. And in today's competitive world, you will need solid SEO techniques to get your website on the first page of Google, and if you want to know how, then you should probably get a cup of coffee and read this article.
What Are The Three Biggest Changes Happening Now When It Comes to Roofing SEO?
1. Detailed and Well-written Content Matters
Every service that you offer needs to have a page for itself. If you're a roofing company, and you do roofing, but you also do siding, let's assume you do gutters installation and stuffs like that, then you need to have a well-written page for roofing and also another one targeting the gutter installation, and also the geographical area that you're in.
You also need to break your content down further. You need to think about the type of roofing services that you provide: whether it being roof replacement, installation, emergency roof repair, roof leaks, and it could be any roof repair service you offer. Then you go into the types of roofs so that you can do metal or Cedar tile, and you can even break it down to granular than that, and you can do corrugated metal and everything.
But every type of service that you have, you need to have a page of content about that service. And when I say a page of content, I am talking about:
What the service is
What the benefits of the service are
Pictures and videos of some of the work that you've done
And anything you can add to make it a well-written page.
All these are going to give you a higher ranking when it comes to those individual service pages.
Also, most roofing companies serve 25-50 mile radius- should have pages targeting each of these cities, but make each of these pages unique. When I say unique, what is that you can have pretty similar content, but you should have something different on each of the pages. You can spice that up with a different review on each page, images, and you could also do a video targeting that area.
Not only could you do the cities in that radius, but you can also have a better chance of ranking if you do individual neighborhoods. So for instance, in Nashville, we have a bunch of little neighborhoods all around the Nashville area, and I live in Christiana neighborhood, so if you're to target Christiana then that's one that nobody is targeting, but trust me there are people that type that stuff. This is because there are people that want local roofing companies to get their roofs fixed instantly. So, just start to think about that sort of stuff when it comes to your content.
Furthermore, a well-written copy does matter. I'm not just referring to throwing a bunch of words on the page; it needs to be content that's going to sell your services. A lot of SEO these days is about user optimization; thus what people are doing on the page. You need to make sure that when people land on that page, they are not going to click on that back button on their browser and go back to the Google search results- Google hates that.
So, make sure that when they land on your page, there is something there to keep them engaged, whether it be a video, images, or it could be a quick call to action encouraging them to take quick advantage of an offer. This sort of stuff is what's going to sell your visitor on your services to make sure they do not leave without contacting you.
2. Low Quality & Spammy Links Pointed Back to Your Website Will Crush Your Raking
There are a bunch of updates with Google, and a few years ago, including last year, it used to be all about links when it comes to ranking in Google. Well, it's still true, and link building is still a huge factor, but in 2020, with updates such as the Penguin update, it's all about quality and the relevance of the link. This means how high-quality are they? Are they relevant to the roofing business? These are stuff to consider when it comes to link building these days in 2020.
Secondly, you are going to want to have someone reviewing your link profile- the links that are coming into your website regularly. This helps you find out if the links coming to your website are of high-quality, and also if they are relevant, and if there is anything spammy, that person will remove those links and disavow them. You can also use a tool called "Search Console" to do that. So, just make sure that you're always doing that link analysis.
Finally, you need to make sure that you're diversifying your anchor text. So, anchor texts are essentially the words that someone else might use to link to your website. Last year and a few years back, a lot of people used to just pound other websites with links that say let's assume you're a roofer in Chicago, they will have an anchor text with a link to your website that says " Chicago Roofer" and they do this 25 to 100 times. It used to work well, and you could get ranked easily, but it's 2020, and you will get hammered by Google if you do stuff like that. So, this is where you might want to go in and remove those bad anchor texts, and this will help you regain that trust in Google's eyes.
3. You Need a Real, Physical Office In Your City To Rank Well on Google Maps
Early in 2014, Google Maps had a recent update called the Pigeon update, and primarily what it addressed was Local Map Listings.
-It took a major toll on people who had:
Had multiple fake addresses
Used UPS stores mailboxes
Virtual stores
& Etc.
Some people are still getting away with this stuff, but multiple businesses have gotten crushed because they were using those virtual offices, and Google wiped those out on Google Maps. So, just make sure you have an actual office in the city that you want to rank in.
A lot of our clients use their home addresses and have their business address hidden on Google My Business, which you can still do, and it's not going to hurt your chance of being ranked on Google.
What Else Has Changed for Roofing SEO?
SEO Tactics From Previous Years No Longer Work
So, just worrying about keywords on the page, building crappy backlinks like PBN, and stuff like that just doesn't work anymore. Google has gotten smarter, and we have AI which isn't going to be easily fooled.
In the Past, Panda, Pigeon and Penguin Era It's All About User Experience Optimization
So, the new SEO approach is going to require a heavy focus on what the user is actually doing in search results, and on the page. This is all related to kind of that technical On-site optimization, which we will get into. But user experience is the next big thing from 2020 forward.
What Are the New Ranking Factors For 2020 and Beyond?
1. CTR is Key ( Click Through Rate)
CTR is going to be a key ranking factor, and we've already noticed this. So, CTR is essentially when someone types in Denver roofers into search results, and say they scroll down, and then they click on maybe the first map listing, then that's considered a click through to your website. So, Google pays attention to that; they know how many times each one is clicked and if they noticed that certain results are being clicked than others, then that's going to affect your rankings. And there are a couple of things you can do to help that click-through rate up.
2. Scroll Rate and Time on Page is Essential
So, once people click through your website and they land on your website, what are they doing on your website? Are they scrolling down once they get to your homepage or your website? Or are they bouncing?
3. Pay Attention to Your Bounce Rate
The bounce rate is also something to pay close attention to. You can see your bounce rate on your page if you have Google Analytics set up. A bounce is essentially when someone comes to your page, and doesn't do anything on it and then clicks the back button and then goes back to the search results. So, make sure you're watching that, if people aren't interacting on your site, it's going to hurt your search results rankings.
4. Google Loves Branding!!

I can't emphasize this enough. Google is all about brands here, especially in the last year of 2019, so you need to build your online roofing brand… and you might have a brand. When I say brand, your online brand, not your offline brand. So, if you're big offline, that's great, but when it comes to getting ranked in Google, you need to at least appear to have a big brand on the internet too.
This means you need to make sure you're mentioned on all these local news sites, and you have links from big authoritative sites and stuff like that. This has been a huge thing in 2020, and it will be huge in the future as well. The roofing brands that are getting big mentions online from other sites are the ones that are getting those good rankings.
5. Number of Citation Review and Relevant Links
This has been a huge ranking factor, and it has become more predominate when it comes to ranking on Google.
So, what then is the new SEO formula someone may ask, well, we are going to dive right into that:
Figure Out The Most Important Keywords Based on Your Service, Service Area, and Search Volume
Do not over-complicate this. Keywords are the searched terms that people type into Google to find you. So, and example will be: Roofing contractor in Denver, another one could be Roofing Repair in Denver. These are all examples of keywords, and you need to understand which keyword brings you the most money.
There are three types of intent when it comes to keyword search, and these are:
Awareness Keywords
Research and Comparison of Keywords
Buying Intent Keywords
Awareness Keywords
So, an informational awareness keyword will be something like "What's the cost of a roof replacement?" This is going to be people that are just searching around and aren't sure if they're buying, but they are looking for stuff like informational type queries.
Research and Comparison of Keyword
So, people are going to Google, and they will type something like- "The best roofing company near me". This is going to be research and comparison, and these are the keywords that you would want to target because these are the ones that are going to help you get found.
Buying Intent Keywords
This is going to be phrases like "Denver Roofing Repair". This is because with this, the customer is ready to go, and they know they want. This is also where the reputation of your company comes into play.
How To Find These Keywords
Well, it is easy, you go to Google.com, and you start typing in something just like I did below, and you will notice Google gave me suggestions. Most people do not realize how powerful or important that is; this is because that is based on what real humans in your city are searching for to find you.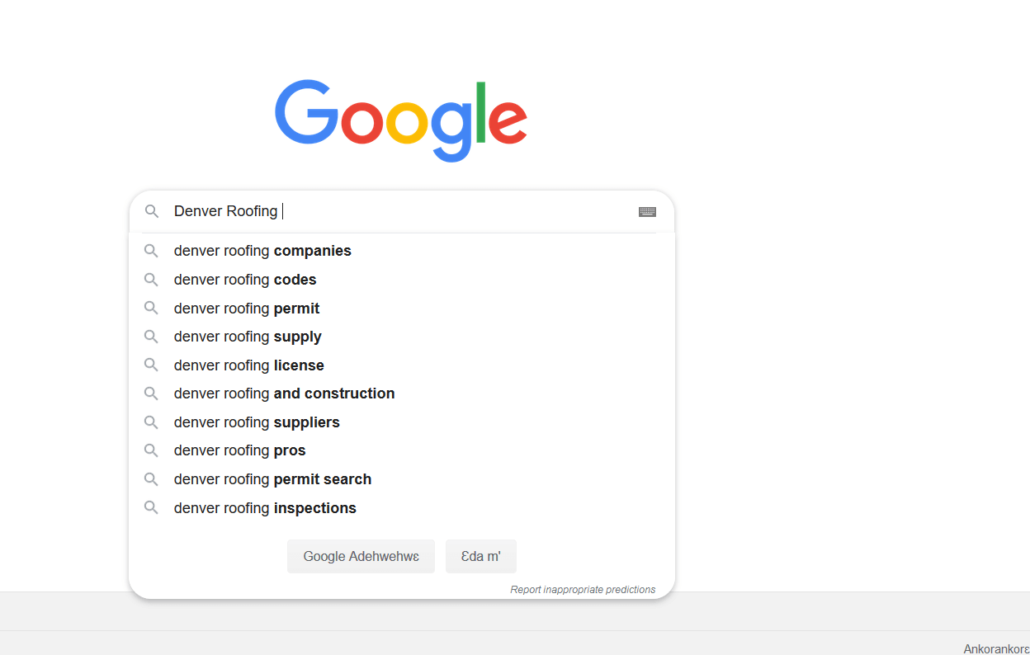 So, make a list and start typing things inside Google that might be roofing problems people are searching for. So, write them down and start making a list.
Also, there are numerous tools out there that will help you find these keywords above. However, we recommend you use:
I highly recommend you use all these to find the best keyword for your local area.
So with these tools, you type in these keyword suggestions, and the website is going to tell you how many average monthly searches of the number of people searching for that keyword, and you'll want to go with the keyword with the highest monthly average. These tools also tell you if the competition is high medium or low for these keywords.
When it comes to the keywords, you need to set up that great website with individual pages targeting those specific keywords. So, you should have a page for every city and neighborhood.
What Are Some Examples of Keywords Structure You Can Use?
Well, below are some examples of the most common roofing keywords lists you can use:
Your City+ Roofing Services
Your City+Roofing Companies
Your City+Roofers
Your City+Roofing Contractors
Your City+Roofing Replacement.
Add Ons:
Near Me
Affordable
Experienced
In my Area
Warranty
Essentially if you have "Your City + Your Service" as your keywords and your ranking for them you should be doing great!
Optimize Your Website To Be Mobile Friendly
This has to do with making your website mobile-friendly. Smartphones are part of our daily lives, and Google has noticed that. So, if you do not have your website optimized to be mobile-friendly, then you are not even going to have a chance to be ranked on Google. So, what I want you to do is to go to Google Mobile test.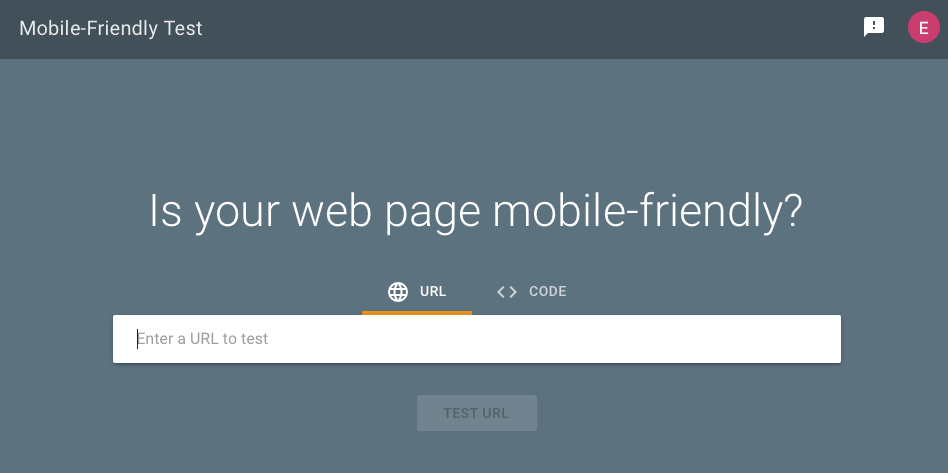 A website like what is below will come up, which will allow you to put your website's address, as shown below. Within 30 seconds, you would get results that will either be a red X or a little green circle. If you get a red X, then maybe you might want to talk to your web designer to get that fixed, or you could fire him and get someone who can get the job done.
So, before putting up your new roofing website for roofing SEO, ensure that it passes this test. Do not assume because your website looks cool, or because your web designer said it is mobile-friendly; then it is- you want Google to tell you this.
Build a Strong Roofing Website With Good Content and User Experience
One way you can build a site with good content, and user experience is to leverage multimedia to improve the on-page time. As discussed earlier, having all sorts of multimedia on your page, is what's going to keep people on the page. One thing I will encourage you to do is to have videos. Videos are the biggest and the best way to engage your site visitors.
This could be a video of a drone flying over of you and your crew working on a roof; this seems to engage people. You could also have a video about you and your team talking about your company. Anything like that is going to keep people on your page and improve those user metrics, Google is going to see that, and it is going to lower your bounce rate. So, get those videos on your page and keep them high up on the page so people do not have to scroll to see them.
Furthermore, imagery helps well, and what by imagery are the images that aren't stock looking. So, a lot of people like to use these stock images. Stock images are images that look like they were downloaded from Google images, which isn't going to engage the user as personalized ones do. People want to feel like they know you- they want that trust factor, so, if you have these stock images all over your site, you going to lose them.
What I recommend you do is to get some kind of professional images taken of you, your team, trucks, and stuffs like that that you can put on your website, that kind of conveys that personal trust factor to the people that are visiting your site. So, I highly recommend you avoid using stock images.
Pages For Each Of Your Services
We have discussed this already. So, all you've got to do here is to make sure you're as granular as possible. Also, make sure that each of these pages is optimized, which means you should have the main keywords in your title, and your header one on your page.
Use Your Main Keyword in Your Title and H1, and Relevant Keywords in H2/H3
So, your title is going to be the thing that pops up in search results, that's the crucial factor which tells Google what your page is about. So make sure you have your main keyword in there, an example can be: "Denver CO Roofing | Roofing Contractors in Denver, Colorado".
Also, ensure that the header one on your page should again use a variation of that keyword. Also, you want to keep these keywords for the user, so make sure that you aren't putting something like- Roofing Denver- as the main title on your page. It might seem like it is great for SEO, but it's not going to help you, it is going to hurt your user engagement. What I recommend you do is to use something more like The Premier Denver Experts That You Can Trust. Or something like that which is going to help people convey that trust factor, and also it still in-cooperate those keywords, of that Denver + Roofers in there. It is not just as blatantly built just for search engines.
Also, you want to use those relevant keywords through the content of your page. Typically, you're going to have a bunch of headers on that page, so don't just use Roofers, or Roofer contractors, you can use: roofing services, roofing experts, and variations as such across the page because this can help you rank for all those keywords that people are typing in to the search results.
Use Meta Descriptions That Sells the Click
Another big thing that helps with CTR is going to be the meta description. For those of you who might not know what meta description is, let's assume you go to Google and you type in " Denver Roofers" and the search pops up, you'll notice that beneath the title of each listing, there is a little description about what the post is about or the services of that page- so, that description is what we refer to as meta description.
So, you want to make sure that that meta description is written in a way that is going to drive clicks. Do not just put something bland there. I recommend you use numbers or an offer, and stuffs like that that is going to stand out on the page and catch people's eye and get them to click. This is going to help you a lot with click-through rate, and that click-through rate is going to help with your SEO rankings.
Add Names, Address, Phone Numbers in The Footer
With the use of Schema, you can integrate the name, address, and phone numbers on the website. It's a specific type of scripting that tells the searched results, Google and other search engines what type of company you are, the services that you provide, and where you're located- this is easy to install.
Blog on Ongoing Updates
Last but not least, you have to make sure that you're always updating your website with new content. A lot of people talk about blogging, blogging is great, but you have to have a purpose behind it. Some people just blog every single day and post some 100-word article on their blog; this isn't going to help you. You need something that is going to be quality, so instead of updating your website daily, I recommend that you update your website every two weeks or every month with like a new blog post- and that blog post is going to be something helpful.
An example can be a blog post that answers simple questions like "Does homeowners insurance cover damages from a hurricane?" This is informative and related to the topic of what you sell. These are some helpful topics you could blog about.
You could also have videos on there, but the main point here is to keep your blog active because when Google sees that your website is active and constantly updated, it ranks you higher.
Roofing SEO: Off-Page Optimization
We looked at on-page optimization, which is like half the battle. Building your authority off-page off Google is the biggest part, but how do you do it right? Well, let's dive into that:
Claim and Optimize Google My Business Listing
Most of you are going this, however, there are a lot of contractors who haven't claimed Google My business listings which are something your whole system will revolve around. So, make sure you go to get that claim, and you can do this by going to Google.com/business if you haven't done that, it is just having them sending you a postcard, and you verify your office space or wherever your business is located. After receiving the card, all you've got to do is to fill it out, ensure to get your service area in there, photos, videos, logos, name, business hours, and everything you can in there to make sure it is filled out.
Also, make sure that you're getting reviews, reviews are really important, but make sure you're regularly responding to those reviews in the Google My Business dashboard. Reviews help with Google's map rankings, and it doesn't matter whether the review is positive or negative, just make sure you respond to all the reviews. This is because this doesn't help you with only Google but visitors to the site will see that you're active on your page.
Google also has Google Post which was released a few years back, and this also helps with Google maps rankings. But make sure you're posting regularly on Google post with stuff that's happening with your business, or offers or stuffs like that.
Get A Lot of High-Quality Business Citations Across The Web To Build Your Brand
You've probably heard this a lot of times, but you must get listed on all these major directories because this tells Google you're a major brand. There are 100's of them out there, it is not always necessary that the more the better, but definitely, get listed in as many as at least your competitors are and more. And finally make sure that your name, phone number, and address is correct through them as well.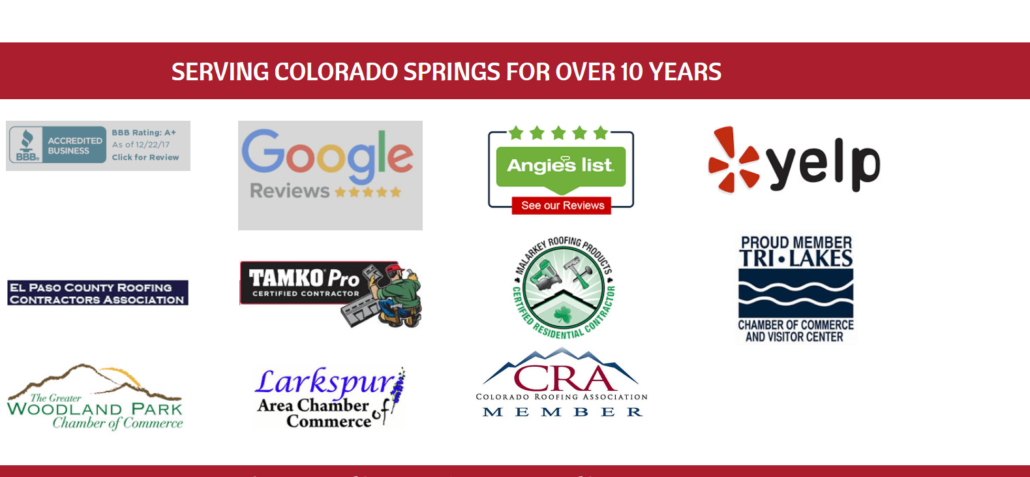 Use The Best In Class Leveraging Tools To Build Up Online Reviews
Building up your online reviews, your online reputation and leveraging the best in class tools such as Grade.us will automate to get reviews on your Google My Business or Facebook or wherever you might want to get reviews. There are also other tools like BirdEye, Podium, ReviewBuzz and many more.
Build Authoritative And Relevant Links Back To Your Website From Other Websites
Links are still the number 1 ranking factor in Google, so you want to take advantage of that. You can do this by making sure you're listed on sites like HomeAdvisor and Yelp, you can still get a free listing on those websites, a lot of times those are major directories.
The Secret To Getting Ranked Among the Top 3 on Google's Map
These are two main factors that keep you part of the top three rankings on Google Map, and these are Google My Business, and Getting Listed.
Google My Business has to do with getting your Google My business optimized 110%, and making sure that your business revolves around Google My Business. And also, getting listed in all the major citation directories, social media directories, and also every search engine includes Google, Bing, and Yahoo. One thing most people don't think about is Apple, a lot of people use Apple products these days, so you want to make sure that you're listed on Apple Maps by using this link to get yourself listed there.
Again, reviews are really important, however, make sure those are Google reviews, and just try to get reviews everywhere but those on Google My Business is a huge ranking factor.
Many people kind of have this warped view of link building I feel like, and it has been that way. And I think that in the past years a lot of people used to build up a lot of spammy links, people still use them but they are not as effective especially for local search, they are not really what's working.
You need to think about what's in front of you and look at those low hanging fruits for links. And trust me those are the links that are driving your rankings in both Google Maps and organic search.
Think of local groups talking of roofing association, national roofing contract associations, and stuffs like that, and you can get listed in their directories. Also make good use of your social media such as Facebook, Instagram, Pinterest, BBB, and if you're part of the chamber of commerce, that is a huge local link that you can get- and I know you have to pay for it but it is worth it. You can also get mentioned in local news articles, blogs of other websites, also if you support a local charity, you can get a link from them. Another good one can be local companies in your area, say you provide a partner type of service with another company, you can get listed on their website.
There are a lot of ways you can build links but competitive link acquisition is one of the ways I use, and it seems to be one of the powerful ways to do that. Google likes for you to get links from sites or stuff that are already ranking. So, what you can do is to go to the search results, and let's assume you're a roofing contractor in Denver, you can type in- Denver roofing contractors- and you can look at kind of those first one or two pages, and you can do this for different keywords, and when you're done try to work to get links from websites that are actually ranking on those first two pages of Google. Because that is what Google loves, they love to see that you're local.
If you're listed on one of these sites that are already ranking, it's a powerful thing for Google to see, so, it's not a push-button thing, it is not easy, but once you do get these types of links, they can be super-effective. So, when you combine this with getting that low-hanging fruit, as discussed earlier, then you're going to be on the top search results in no time.
What Do These Results Have In Common?
From this search results, you can see these sites have the following in common: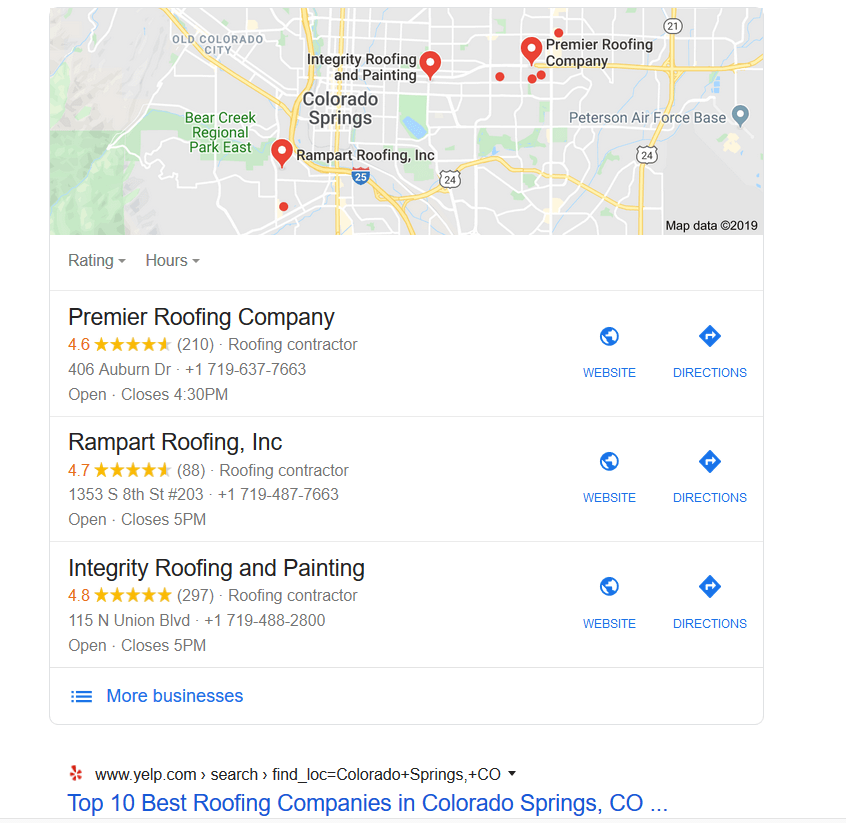 Claimed and verified Google Map Listing on Google My Business
Lots of Online Reviews
Lots of citation with consistent reference of NAP
Solid link profile across the website.
---
A Quick Recap On The New Roofing Local SEO Strategy That Works For 2020 and Beyond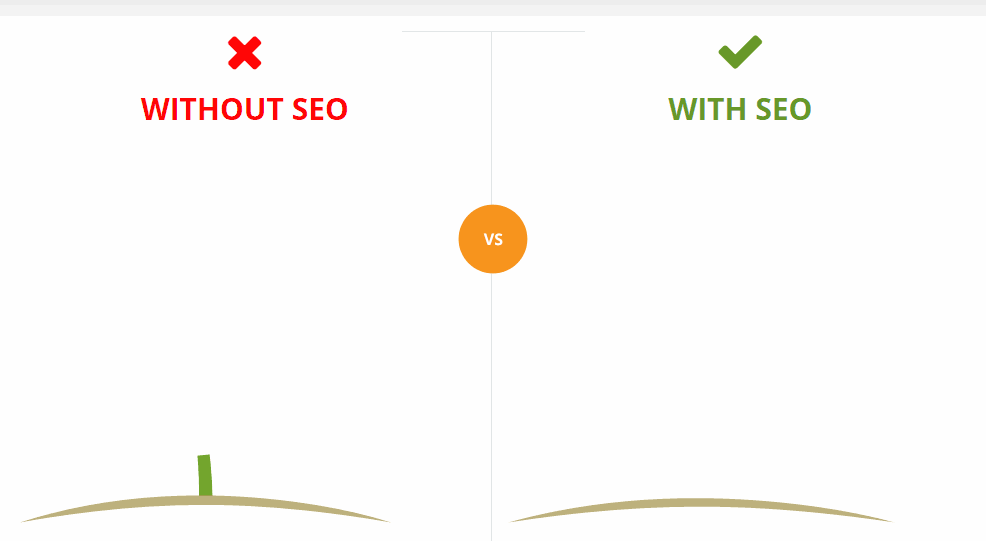 1. Set up a Great Website With Pages With Each of Your Services and Each of The City You Serve
So, get super granular with it and have good content written for all those services. Also, make sure you're hitting all those cities and neighborhoods that you're serving. If you can write a page about that city and service, combine it. Eg; Roofing in+ the neighborhood. Also, do not forget to talk about all your services, and have some reviews from that area.
Also, add some images because that can help you immensely ranked in those organic search results.
2. Optimize Your Website To Be Mobile Friendly
Again, ensure that your web designer builds a website that can run fast on mobile devices. Do not take the designer's word. Check if your site is optimized for mobile devices using the Google Mobile test.
3. Get Your Keyword and In the Title and Header of Each Page
Do not forget to add your Keyword and geo-modifier in the title of each page. Make sure it is listed because you've got to tell Google what you're trying to rank for. However, ensure that you aren't spammy about it and use different variations of those keywords.
4. Use a Quality, Well-Written and Unique Content For Every Page
Do not skimp on the quality and do not skimp on the amount of content either. Doing something like a 100-word page isn't going to help you with your ranking.
5. Use Multi-Media To Enhance Time Spent On Page
I guarantee if you do this well, it is going to help reduce your bounce rate which will all boost your rank results. So, make sure you're putting those images and videos of your team, and anything you can to keep people on the page.
6. Get Reviews From All Around the Web
Ensure to get your reputation up to using the software mentioned to get you a lot of reviews fast.
7. Build Your Citation and Consistency
Get listed in all of the major citations and all the major search engines, and make sure your brand is seen consistently across the web.
8. Remember to Post Updated Relevant Blog Posts Consistently
With this, posting every couple of weeks, or every month. Get a piece of content written and put it on your blog, this can be about your company itself, it could be about answering common questions about some roofing services that you provide and anything like that. Just keep your blog active because Google recognizes those stuff.
9. Build Links and Authority
And again, going back to building links, be creative, local links are great, and relevant links are great, so, keep those two words in mind. Make sure they are related to your city and help you rank in the maps. Finally, make sure that you have the authoritative link too, this could be high powerful blogs you could be getting links from, it could be news sites, and stuffs like that.
10. Leverage Paid Search To Identify High Converting Keywords
I do this all the time, I am sure a lot of you are running paid search, and again I recommend paid search because it helps you get leads fast, but you can really kind of get an idea of which keywords, when you're running pay per click, are actually converting the best, and you can use that for your SEO. So, if you're running ads right now, go to Google Ad's account, and check out to know what people are searching, and see which ones are converting the best. If you have conversion trackers, you can see which keywords are typically getting you the most leads, and make sure you weave those keywords into your content, on the pages you want to rank.

Help is just a few clicks away
If you think these processes look technical and complicated for you, and you need your roofing website optimized perfectly for SEO, then BlackStorm is here for you. Apply for a consultation with us today and we will be at your service as soon as possible.
Ready To Generate More Roofing Leads For Your Roofing Business?
At BlackStorm We Grow Local Roofing Businesses Through Digital Marketing To Generate Leads That Increase Sales