How Roofing Businesses can Find New Clients Through These Lead Generation Strategies
As a roofing professional, has your company come to a halt in terms of new customers in the area? Are you finding it difficult to reach out to locals or find qualified leads? One of the biggest challenges you'll face at some point in time or another as a roofing professional is finding qualified roofing leads. Sure, you can purchase leads, but what good will that do? More often than not, the companies selling leads, do not specify who their target demographic is, or the type of roofing service the customer requires. Therefore, you're not sure what your buying until you pay for it.
Understanding what a lead is, and the types of leads available is step one in the roofing lead generation process. A lead is a person or company that's shown an interest in your product or service in this case, roofing repair, replacement, or other roofing services. As a business, you learn of the roofing leads in your local area through one of the roofing lead generation methods you'll utilize to grow your business.
What Types of Leads are you Targeting?
Okay, so now that you have a clearer understanding of what a lead is, i.e., a person/entity in need of the services you offer, you'll have to understand the type of lead you're reaching, so you can utilize the right roofing lead generation tactics to reach them. There are two types of leads which are B2B and B2C. These are defined as
B2C (business to consumer)
B2B (business to business) leads.
B2C is generally residential customers, while B2B is more often than not industrial businesses or commercial customers in need of roofing services. Therefore, the types of lead generation you'll use with B2C might not be as in-depth or detailed. The reason being is that your B2B consumer is usually also business owners. So, they have a greater understanding of the lead generation cycle and will understand how you're attempting to reach them. Tailoring your roofing lead generation tactics to the audience you're trying to reach, will help you better target yourself as a roofer, to gain their trust and eventually turn those leads into customers.
Roofing Lead Generation: Best Tactics to Employ
For roofers that want to attract the right audience, it's essential to utilize the best roofing leads and generation tactics to reach them. So, consider a few of these methods for reaching your target niche, audience, and eventually turning those roofing leads into customers.
PPC ads target advertising campaigns on Google, Bing, Homeadvisor, and other sites. These ads sit atop the organic results on Google. So, they're the first thing people see when they search for local roofing companies on Google. You want your ads to be visible. Why?
Per click, companies can earn double, or more, than what they're spending per ad
People click on PPC ads, so, you're at least getting the customer onto your website
Most clicks go to the top 3 results on PPC ads, so you want your ad to rank highly
PPC visitors are up to 50% more likely to convert from roofing leads to actual customers, than people who find you through other searches
Although it has to be used in conjunction with other methods, PPC ads are a great roofing lead generation tool to use. If you need to set up and create credible ads that will convert, a web design team with the top PPC experts on staff can help!
There's no way around it; organic search engine optimization is still atop the list of roofing lead generation tactics to use. People will search Google for local roofing companies. Therefore, your site has to be optimized for
The right keywords (roofing, repair, installation, residential, commercial, materials, etc.)
Local search terms
Geo-targeting
Specific roofing services offered
Your site has to be optimized to ensure it's atop Google's results for local searches people are conducting. If your site isn't optimized, consider hiring a specialist web design team to work on it.
Roofing Email Campaigns
Building an email list is one of the best roofing leads to generation methods you can utilize. When a customer indicates an interest (they fill out a form on your site or a review site), make sure you have an email campaign set up, to automatically send out follow up emails. Remind customers of your information. Let them know about promos or current specials. Tell them to schedule a free consultation by clicking the link in the email. Having an auto email campaign set up is the best approach.
Canvassing (Salesman/woman Approach)
You know that creepy door to door salesman? Don't be that person! Instead, make sure you're doing things correctly. When canvassing, consider doing so after a major storm in the area. Make sure you show up in
Full uniform
Are in a company van/vehicle
Have business cards
Bring your company ID
Let local customers know who you are, what your company does, and that you offer emergency roofing repair or services. If they request a consultation, excellent. If not, they are at least aware of your business, that you're local, and the types of services you offer, given the business cards you leave behind with them.
Snail Mail or Direct Mail Campaigns
Yes, direct mail still works. Send out fliers with your company's name and roofing services. Send out postcards with an offer for a free roofing consultation. Make sure your direct mail packages are tailored (don't write dear customer, write Dear Mr.Smith), you can find out information about the addresses you're sending mail to. Make them targeted, and let the customer know you are aware they need roofing services, and you have what they're looking for.
You can't get around it; everyone is on social media today. Regardless of age, demographic, or location, people are on Facebook, Twitter, Instagram, and other social sites. So, use this to your advantage. Advertise on social media. Make sure you're targeting roofing leads that are interested in roofing services. You can utilize an app like Boostpoint. This allows you to enter your target location, and learn about local customers who might be your next target. Make sure you're geo-targeting those areas in the ad campaigns you create.
Attend Local Trade Shows
Trade shows are a great way to find new roofing leads. It's also a great way to get your business name out there in the local community. There are both B2B and B2C trade shows, so depending on your niche as a roofing company, and who your target audience is, attend as many as possible. Some of the benefits of attending a local trade show include
You can talk to potential customers face to face, you're not behind a computer screen
You can promote your product, your roofing services, and discuss their needs
You can have customers discuss their needs with you
Businesses can also set up consultations or free roof inspections (you get your foot in the door)
You can take your product to the trade show, so customers can see and physically touch the roofing materials your company uses
At local trade shows, make sure you're giving something of value away. Why would someone visit your booth if you're not giving anything away, while the neighboring booth is giving away free magnets, pens, or other supplies? So, make sure you bring promotional materials to give away for free. Hand out pens, magnets, bags, koozies, and other items. Yes, you'll pay for these promotional items. However, they have your company's name plastered on them. So, every time that person opens the fridge, they'll see the magnet and your company name. They'll remember your business when they need roofing work done.
It's also important to hand out business cards or schedule consultations at trade shows. And, after the trade show, call the customer or email them with reminders. Follow up with them. People tend to forget things, even their roof. So, make sure you're following back, but don't be overly pushy. Just give them a friendly reminder of your encounter, and let them know you're ready when they need to call for services.
Partnerships/Alliances
Local roofing companies form alliances with Home Depot or Lowes, and other big companies which carry roofing materials. Although the terms of the agreement will vary for each company, it's worth working with them if possible. Why? For starters, you can include Home Depot or Lowes on your website. These are names people know anywhere in the US, and they are also businesses people trust. So, if you let customers know on your website that you partner with them, and carry roofing shingles, metal roofs, or other roofs sold by these companies, it's a great way to bolster your credibility.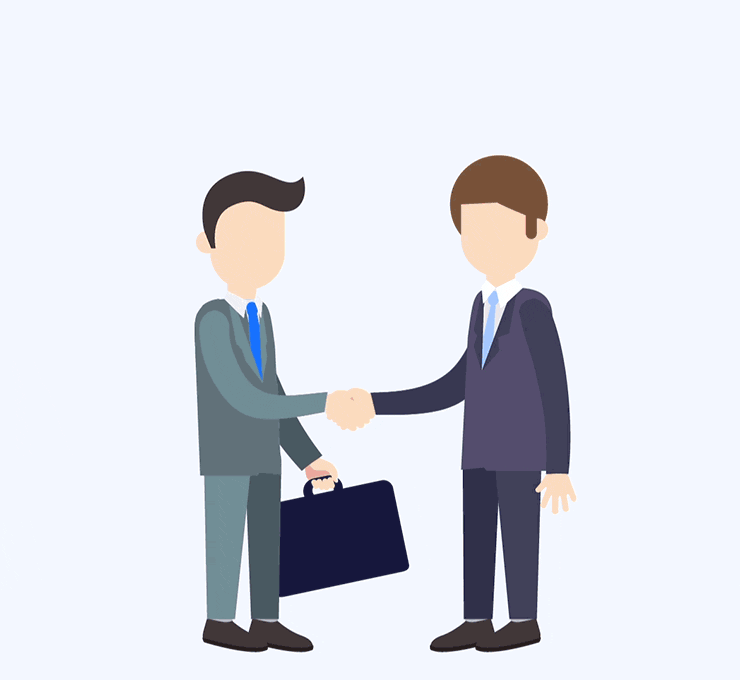 You will pay a fee to these companies to utilize their name as well as the roofing materials you'll use when working on a customer's roof. However, it might be worth the investment, especially initially, as you can grow your brand and reputation. People trust big-name companies. So, you want to have these on your website so that you'll be seen as credible, reputable roofing professional.
You're not paying for this, nor is it a direct tactic you're using as a business owner, but it's a great referral source for new leads. You're going to include positive customer reviews on your website. But, these reviews only carry so much weight. Local searchers are going to visit Yelp, Google My Business, BBB, and other rating and review sites. When the reviews are positive about your business, this can generate new leads by people Googling your roofing company and calling you or filling out the online form on your site. It's a free resource and is an invaluable tool for roofers (and any business owner for that matter).
How can you help bolster your credibility as a business owner? Make sure you have the proper tools in place to ensure your positive reviews are seen on
My Business
Angieslist
Facebook
HomeAdvisor and other sites
Make sure the reviews customers are writing are populating on as many review sites as possible. This will help your company grow in reputation, it will reach a larger contingency of potential local customers, plus people will rely on the reviews which are written on third party sites, more so than those which are directly on your website.

Online Sites Which Promote Service Providers
Have you ever visited Angieslist.com? It's a great resource and site which compiles a list of the top local service providers in any niche that can help local customers and local roofing leads find the best local roofer. It's not just this site; there is also
Thumbtack allows businesses to post their service for a minimal cost. The networking site helps roofers reach local customers. It also allows local customers to enter reviews about that service provider, so other potential customers can decide if the company is worth hiring
Homeadvisor.com allows companies to promote themselves as a local, licensed roofing company. This site does sell your leads to third party companies, so they're not exclusively yours.
Although Angieslist.com is the most well-known site, which allows customers to review local businesses and review their profile, you can utilize a combination of these sites, or one, to promote yourself as a top local roofer. From there, customers will fill out the online form, with their personal contact information, and you can generate roofing leads this way.
Bear in mind you're paying a fee to use the site as a roofing company, and you'll pay for each viable lead that hires you. But, the returns are excellent if you can get a few big-ticket clients, and eventually referral business from those leads.
Don't Limit Yourself… Utilize a Combination of Lead Generation Tactics for Best Results
As you can see, there's more than one roofing lead generation tactic you can employ as a local roofing company. Regardless of whether you're targeting B2C or B2B customers, for residential or commercial services, you'll want to employ the right tactics, to attract the right leads. Consider using a combination of these methods, to help you gain a broader range of leads. It does take time, effort, and will cost you to attract new leads. But, it's well worth the investment when you see the returns from one major roofing installation gig or major repair job you book.
When looking to attract new local leads, as a roofing company, these are a few of the many approaches you'll want to utilize. So, get started on putting together your list, getting your profile ready, and building your online campaigns, to put your best foot forward to potential local customers you're trying to reach.
Ready To Generate More Roofing Leads For Your Roofing Business?
At BlackStorm We Grow Local Roofing Businesses Through Digital Marketing To Generate Leads That Increase Sales